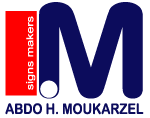 About us
Established as a hobby in 1990 in a small house room, our only objective was to make personal key chains to friends and acquaintances. The business quickly grew as customers seen the creativity and professional ability displayed in our layouts and finished works. From a small room to a workshop of 350 m2, from some small primitive equipments to hi tech and computerized machines , from a narrow range of clientele to a large number of hotels, restaurants, schools, warehouses, public institutions, universities, hospitals and malls. Our market is in continuous local and international growth.
We make it our business to know yours. We create custom signage specific to your industry to help you not only to get new business, but to also grow the business you already have. Our state of the art technology delivers the highest quality signage, on time and on budget. Our hardware and software systems ensure consistent accuracy in reproducing your files and logos…
We are a family business that is small enough to give you the personal service you want but we are also large enough and technologically advanced to give that personal service at competitive prices. Because of our set-up, we are able to cater to smaller businesses who prefer to order in smaller quantities, while at the same time able to serve our more larger clientele.